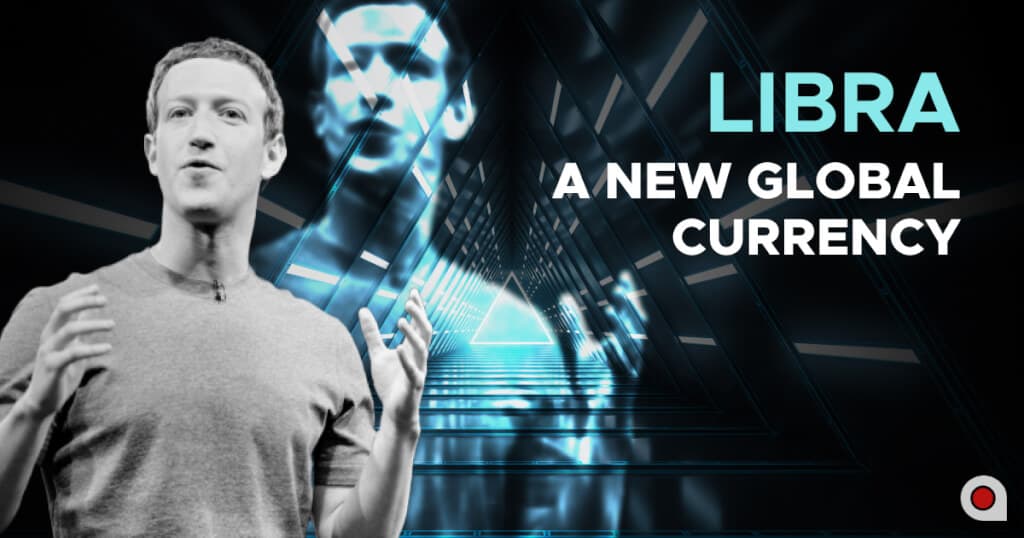 Facebook Launches a New Cryptocurrency Libra
Facebook in cooperation with 27 partner companies formally announced last week they plan to launch a digital currency called Libra in the first half of 2020.
When it launches in 2020 or later, it will be a stablecoin – a low-inflation currency backed by a reserve, bank deposits, real assets, and short-term government securities. It will allow its billions of users to make financial transactions across the globe in a move that could potentially shake up the world's banking system. 
There is how Facebook lays out the company's vision for Libra currency:
There have been a lot of rumors and hype around this hot topic from regulatory and governmental organizations over the past week. 
Expert Opinions
Proponents see tangible shifts first in economic approaches. Stephen Moore, an economist and fellow at the Heritage Foundation, said:
The unveiling of the Libra cryptocurrency was met with opposition in Europe. Critics assume the initiative is being concentrated in the wrong "private" hands. European financial regulators have concerns over the possibility of Libra becoming a "shadow bank."
Ethereum co-founder Joseph Lubin compared the Libra token with a centralized wolf in a decentralized sheep's clothing.
Traders believe that Libra "will create mass awareness of cryptocurrencies and act as a gateway to adoption." Facebook's Libra has made a buzz in the crypto market, and there are assumptions that Libra has become a catalyst for a Bitcoin spike to break out of a spell of limited price moves. Since cryptocurrency markets are opaque, it is difficult to pinpoint the exact cause for the price increase, but the fact is obvious. 
Following critical estimation of new crypto on the market from many tech experts, the Bank for International Settlements (BIS) said that there are potential benefits, however, the adoption of digital currencies outside the current financial system could reduce competition and create data privacy issues.
What's Next with Libra?
Will this be a lure, a battle with governments, an upcoming financial system revolution, or a trigger for the adoption of decentralized technology?
There is a vast spectrum of aspects to scrutinize. Let us shed some light on the subject.
Libra poses risks to global banking, and banks will miss out on the game. Banking systems will be deadlocked, with no option left but to shift existing paradigms. 

They will be the same as the internet right now. It's entirely a commodity at the infrastructure level, but most of the value and money are created in the ecosystem that lives in the top of the infrastructure. The same is going to happen with the upcoming revolution, where large technology companies leading the way.

Competitors heard the call to make inroads into global finance. Despite the fact that big technology companies are moving into financial services, they should either support competitive efforts and

launch their own networks or join the Libra Association. With the emergence of more and more networks, the need to search for solutions in the area of inter-blockchain communication (IBC) will increase.

 Libra may be a game-changer for improving the worldwide economic situation with inequality. 

According to Bank of England Governor Mark Carney, who is open-minded about Facebook's Libra token, existing global payments systems are largely unequal at the moment. He stated that Libra will meet the highest standards of regulation, however. 

What would happen if money and liquidity became more acceptable in regions without financial inclusion? New investment opportunities will explode in areas where ROI and average infrastructure rate are high.  

I

s Libra going to be a Bitcoin rival? Our answer is NO. Let us clarify on that. 

Google search requests for Bitcoin have risen dramatically in comparison with previous months. What is the reason for the Bitcoin spike?  Libra? Perhaps it's a common phenomenon of renovation intrinsic to the market

ecosystem. 

Analysts say that "Libra is the biggest corporate endorsement of cryptocurrencies yet, and has the potential to introduce billions of potential users to the idea of value transfer via blockchain. This should benefit Bitcoin, as well."

The key difference between Libra and Bitcoin is that Bitcoin has been compared to gold, therefore, regarded as more of an investment and store-of-value. "You don't pay with gold, but you still hold it as a part of your investment portfolio", proponents of Bitcoin gold analogy explain.

Bitcoin is not owned or governed by any central party. It's trustless, whereas Libra users will have to trust the company. Nowadays, gold and currency are different concepts with different roles. No one wants to buy coffee for gold. While Libra will be a currency for day-to-day transactions and payments, Bitcoin will become entrenched as a "digital gold." 

We assume that Libra is a positive tailwind, and its popularization will only add to awareness around Bitcoin. 
What's in It for You?
Tokenized reward systems

. Being resistant to inflation, tokenized loyalty programs go way beyond traditional centralized reward systems taking businesses to the next level of interaction with customers. The tokenized solution provides higher flexibility and greater access to customers within the business ecosystem. Due to classic loyalty programs lacking liquidity, loyalty programs make manageable systems inefficient.

Tokenized rewards can serve as a stable and permanent loyalty model since tokens are based on blockchain, being immutable and ensuring more trust between users. With tokens' flexibility and high liquidity, customers will get more value and easier potential use.
Libra competitor?

Thinking of all the competitors who would like to retain their competitive edge – wouldn't they want to have their own solution competing with Libra? Let's name some of the messaging companies rolling out their own cryptocurrency:
Telegram is planning to launch its Telegram Open Network (TON) with its own digital coin Gram in Q3 in 2019.


South Korean giant Kakao has launched its own blockchain platform

Klaytn

in June this year. Kakao has also intentions to release crypto wallet in its messaging app, KakaoTalk, to send peer-to-peer transactions. 

Japanese messaging app Line launched its own digital coin Link in 2018 and continued to develop its token ecosystem Link Chain. Moreover, Line Pay Corporation has partnered on new blockchain and digital payments solutions. 
Learn to code

with Move, Libra's programming language. The

Applicature development team

can help you with a technical advisory for your blockchain solution.
Other Insights:
Bitcoin

, which accounts for over half of the cryptocurrency market, has more than trebled in price since touching its lowest this year in January.

Stablecoins backed by big corporations seem to be the central topic in 2019.

JPMorgan Chase

is expecting to pilot testing JPM Coin with a few clients by the end of 2019 if relevant regulators approve it.  

I spoke with a client launching

an exchange solution. Since we have multiple solutions to offer, technology is easy to deploy. If you are thinking of launching a trading-platform business, you'll have multiple pitfalls, so let me name a few that oftentimes stop founders halfway: regulations, user acquisition, liquidity, customer support, risk management. All these areas require thorough business planning, which Applicature is happy to assist you with.